Here we promote online data science events to facilitate learning and discussion
In each of these open events, we will bring together an expert panel of researchers from around the globe to share. Each event will close with an interactive 'Question and Answer' session to allow participants to put forward their own questions, identify relevant resources and gather consensus with the panel and other attendees.
Upcoming workshops and events, and details of how to register for them, are listed below. You can also find recordings from each of our previous events.
*This area is being continually updated so please check back here for new workshops and webinars. If you have any events you want us to promote here, please get in touch*
Date: 22 September 2022
Please join us on Thursday 22 September 2022 15.00-16.00 (BST) to hear Neil Postlethwaite, Technical Director of the International COVID-19 Data Alliance (ICODA) will introduce the concept of Privacy Enhancing Technologies (PETs) and discuss the importance of their use within global health research. He will describe ICODA's implementation of the Fives Safes framework for enhancing privacy and trustworthiness, and highlight the use of Trusted Research Environments (TREs) as a "Safe Setting" for data analysis.
He will be joined by Joseph Ouma, Senior Programmer for the periCOVID study, Makarere University Johns Hopkins University (MUJHU), Uganda, and the ICODA DP IROC study and Dr Carl Marincowitz, Principal Investigator of the PRIEST (Pandemic Respiratory Infection Emergency System Triage) Study for Low and Middle-Income Countries, Sheffield University, UK, who will describe their experiences of using TREs in their research projects.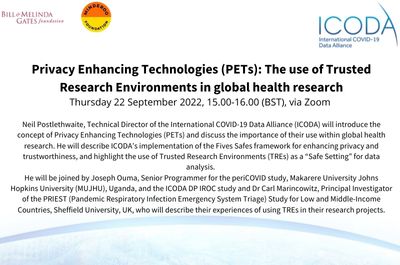 Please join us to hear Jonas Haggstrom of Cytel and Chair of the ICODA Statistical Expert Group and Dale Barnart of Partners in Health and PI for the GC ICODA project 'The Impact of COVID-19 on Chronic Care Patients' Health Care Utilization and Health Outcomes in Haiti, Malawi, Mexico and Rwanda', deliver a webinar on meta analysis. The session will cover:
Meta Analysis: Introduction to MA Best Practice

Application and use

A case study featuring a meta analysis App and analysis on dummy data
Jonas Häggström – Cytel / ICODA Statistical Expert Group
Dale Barnhart – PIH / ICODA DP PIH COVCO